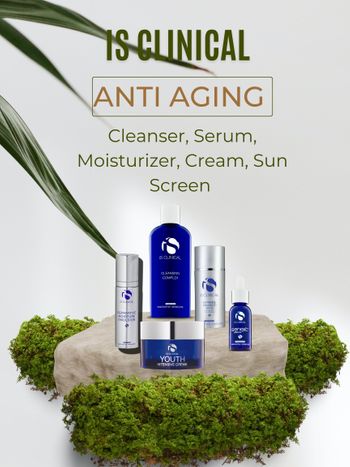 What is the Best Way to Treat Wrinkles?
Free radicals that lead to damage within skin cells can be neutralized with antioxidants. As antioxidants have different chemical make-ups and penetrate different areas of the cell, a combination of antioxidants is best to treat the signs of aging. The quality of these antioxidant ingredients is vital for the effectiveness of treatment. iS Clinical products use pharmaceutical grade ingredients that are of a significantly higher quality and purity level than the cosmeceutical grade ingredients used in most other products.
These vitamins are strong antioxidants in their own right, but they also provide nutrition to the skin and help fortify the skin's ability to renew itself and remain youthful strong.
Products with antioxidants can decrease the inflammatory process and therefore lessen the velocity of aging. iS Clinical products that are superior antioxidants: Cleansing Complex, Genexc Serum, Youth Intensive creme, Reparative Moisture Emulsion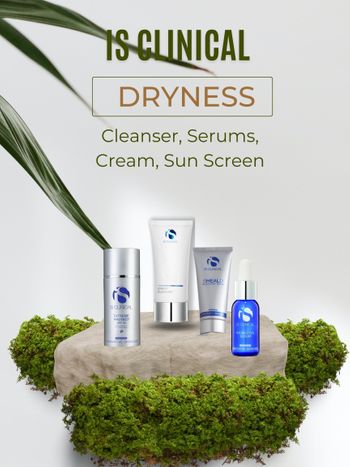 Is There a Difference Between Dry & Dehydrated Skin?
Yes, there are subtle yet significant differences between dry & dehydrated skin. If skin is dehydrated, it lacks water, but can still produce the lipids necessary for its protective barrier. Dry skin cells are unable to synthesize those lipids and lower lipid levels in the skin barrier impair water retention. While dryness and dehydration are different issues, they are almost always seen together in the skin.
Incorporating a moisturizing cleanser such as iS Clinical's Cream Cleanser is an excellent way to clean and hydrate dry/dehydrated skin. Cream Cleanser combines bio-nutrients, antioxidants, and restorative ingredients to gently cleanse the skin while soothing the look and feel of dry areas. Hydra-Cool Serum is formulated to rejuvenate, hydrate, and visibly soothe the skin. This refreshing, powerful, penetrating serum combines superior antioxidants with essential botanicals and bio-nutrients., Finishing a skincare regimen with Extreme protect SPF 30. Provides an antioxidant-rich protective barrier.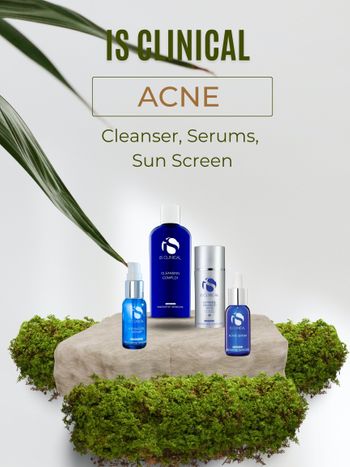 Which Ingredients are Best to Treat Acne?
Best Antioxidants for Acne
Antioxidants reduce free radicals which damage our cells and increase the inflammatory response.
iS Clinical Products Are Packed with Antioxidants
Including antioxidants through all four levels of skincare (Cleanse, Treat, Hydrate, Protect) can help reduce inflammation and the appearance of lesions associated with acne.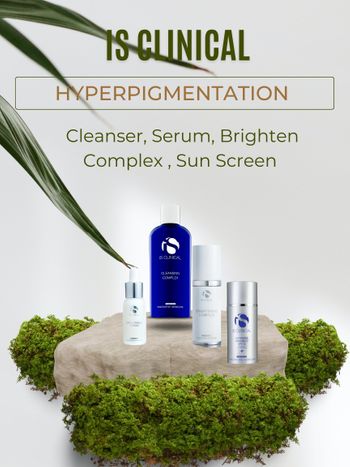 How Can Hyperpigmentation Be Treated?
When looking for products to treat hyperpigmentation, it is important to pay special attention to the ingredients. A common ingredient in many brightening products is hydroquinone. While hydroquinone is currently approved for use by the FDA in the United States, the substance is banned in the European Union, Japan, and Australia. Its purpose is to kill melanocyte cells to slow the production of melanin but may actually cause worse hyperpigmentation issues and sometimes the disorder ochronosis.
iS Clinical has made advancements in formulation that are hydroquinone-free, anti-inflammatory, and treat all five steps in the pigmentation process. The special blend of botanical antioxidants in both the Brightening Complex and Brightening Serum are extremely efficient in treating not only hyperpigmentation, but also wrinkles, fine lines, age spots, and large pores.
iS Clinical created a regimen designed to effectively treat hyperpigmentation by combating all five steps in the scientific process of creating pigment within the skin cells.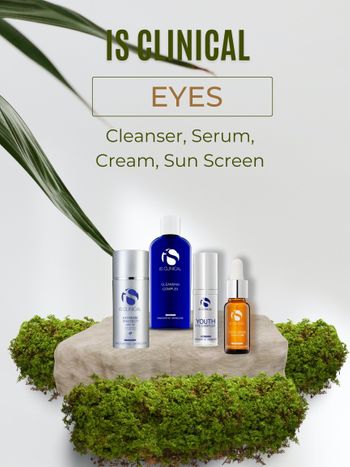 What is the Best Way to Treat Wrinkles Around the Eyes?
Skin laxity associated with aging can be attributed to the loss of three main cellular components.
Elastin: Elastic fibers in the skin
Collagen: Support structures of the skin
Ground Substance: Area between cells that contains hyaluronic acid and other molecules
Signs of aging related to skin laxity include sagging tissue, crepiness of skin, loss of definition, deterioration of skin texture, and superficial and/or deep wrinkling. Wrinkles around the eye are actually scars that result from repeated inflammation and oxidative damage followed by the body's attempt to heal. The wrinkles visible in the outer corner of the eye, commonly known as "crow's feet", are often the first to appear.
Thickening of the skin under the eye would make the skin less translucent and cause the underlying vessels to be less obvious. Collagen synthesis and improvements in skin thickness can be encouraged by growth factors.
These issues may be addressed with iS Clinical's YOUTH EYE COMPLEX. Powerful peptides and antioxidants work together to reduce the appearance of wrinkles and visibly brighten the under-eye area, keeping skin well moisturized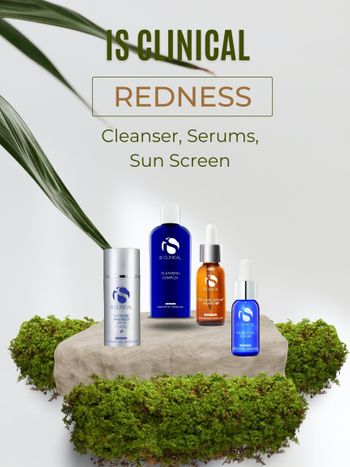 How Can Skin Redness Be Treated?
Visible redness on skin's surface is the result of inflammation with a wide variety of potential causes. Inflammation is necessary for healing within the body, but too much may lead to negative effects such as redness, swelling, irritation, pain, or even excess scarring. Antioxidants are designed to help the body fight inflammation by neutralizing the free radicals. Benefits of antioxidants include:
Reduced damaged from environmental aggressors (e.g. – pollution, sun exposure, blue light)
Calmed inflammation/redness
Increased collagen synthesis
Improved appearance of scar tissue
iS Clinical products are formulated with botanical and scientifically advanced antioxidants to help repair stressed or damaged cells. When combined with other products in a complete iS Clinical regimen, antioxidant-rich products are extraordinarily beneficial in reducing the appearance of redness
Schedule an appointment with us today to get started
Disclaimer: There is no guarantee of specific results and each person results may vary.