Dermalogica Pro Microneedling, Nononeedling
Pro Microneedling , Nanoneedling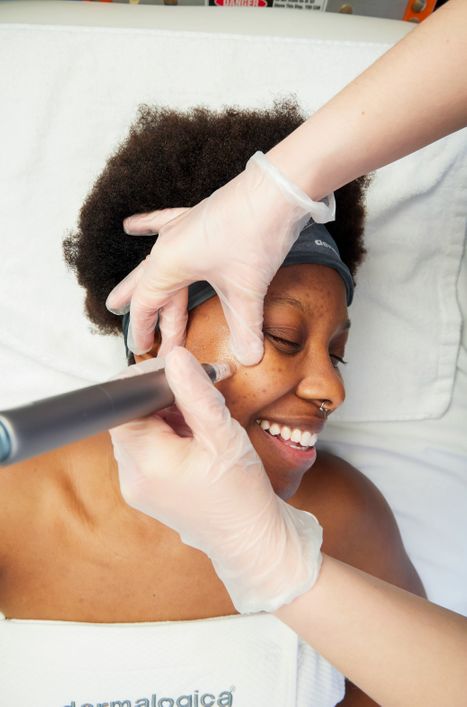 How microneedling works?
• Microneedling is a minimally-invasive procedure that uses fine needles to make miniscule, evenly-spaced micro-injuries to the skin.
• Results occur in 3 phases: Inflammation, proliferation, and remodeling
Microneedling is a minimally-invasive procedure that uses fine needles to make miniscule, evenly-spaced micro-injuries to the skin. This triggers the body's wound healing process, stimulates healthy surrounding tissue to repair the damage, and brings the skin back to its healthiest looking state.
This repair process helps reduce the appearance of dark spots, wrinkles, sagging, and texture irregularities such as acne pitting or stretch marks.
Recent studies have proven that Microneedling is effective in targeting the melanocytes responsible for melanin overproduction, which means you can achieve brighter, more even-toned skin.
Wondering exactly what's happening beneath the skin's surface as a result of Microneedling?
Phase 1: Inflammation
Triggers the skin's immune response
Phase 2: Proliferation
New, healthy-looking skin begins to form
Phase 3: Remodeling
Skin appears bright, smooth, and refined
Who is not a candidate for microneedling?
Microneedling is generally safe for all skin types, but those who are pregnant, have a history of eczema, psoriasis, herpes, diabetes and other chronic conditions should consult with their physician for approval.
Dermalogica Pro Microneedling Treatment
Dermalogica's PRO Microneedling is safe, virtually painless, and can benefit all skin types. By targeting your skin's inflammation and repair process, PRO Microneedling stimulates the production of new, healthy-looking skin.
Our unique combination of customized techniques and powerful, professional-grade actives delivers ambitious results. PRO Microneedling helps:
Brighten your complexion
Reduce the appearance of dark spots
Diminish the appearance of lines and wrinkles
Refine the look of pores
And, it even encourages lymphatic movement to help your face appear less puffy.
What to expect during your pro microneedling treatment
1) Evaluation: A Dermalogica Professional Skin Therapist will examine your skin.
2) Procedure
2A) Prep: Your skin will be degreased and resurfaced with a gentle peel.
2B) Treatment
Microneedling: Using the appropriate needle size and depth to target your skin health goals, your Professional Skin Esthetician will administer the Microneedling tool directly and evenly spaced across your skin.
Professional Serums: Whether you want to boost brightness, target wrinkles, or reduce hyperpigmentation, your Skin Therapist will finish by applying the powerful serum best suited to your skin's needs.
2C) After Care
Most people require little down time if any. You may see redness for a few days after the procedure which is a natural response. Your Professional Skin Esthetician will review your post care steps with you after the service on what to do and what to avoid for the next 24-72 hours. Results will be visible within two weeks! We recommend booking a series of PRO Microneedling treatments 4-6 weeks apart for optimal improvements and skin maintenance.
Ready for brighter, smoother, more refined looking skin? Book your Dermalogica Pro Microneedling Service today!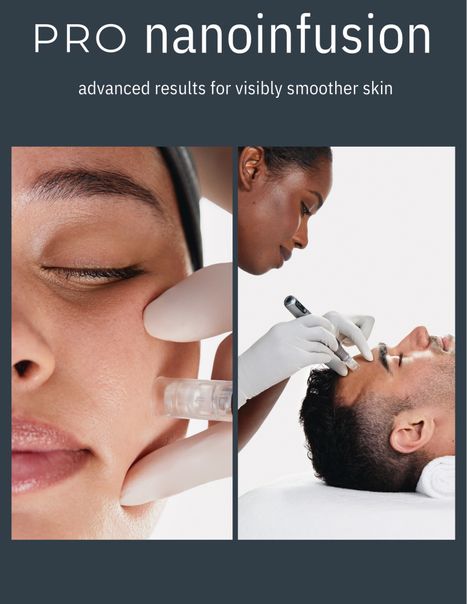 What is Nanoneedling?
Nano-needling is a non-invasive transdermal serum delivery system. A stylus is used to tap nano-cartridges to the skin—thousands of microscopic pyramid-like tips that penetrate the skin's epidermis. These cartridges are thinner than human hair, and, when they touch the skin, form as much as 200,000 nano-channels. It's through these channels that serums that can address different skin issues are delivered. The result? A significantly higher absorption rate of up to a whopping 97% for these serums, which target specific skin issues, all while the skin's collagen production is stimulated. The boost in collagen production, coupled with the serums working their magic on the skin, effectively treats your skin's issues. You'll find a reduction in scarring and hyperpigmentation, and even lessened appearance of fine lines and wrinkles! That's exactly how nano-needling renews the skin.
Benefits of Nano-Needling
Pro Nanoneedling treatment delivers advanced professional results for skin texture and signs of ageing. This 60 min treatment uses innovative technology and professional-grade actives to insantly help with diminishing appearance of:This treatment is most commonly used to address the following concerns:
Aging skin/ Wrinkles
Fine lines
Hyperpigmentation
Large pores
Dark Spots
Apart from this, though, nano-needling can also be used to target crow's feet and lip lines. As a minimally invasive procedure, it can also be used in sensitive spots or areas where chemical peels or microdermabrasion can't be performed on!
There are tons of benefits you can derive from nano-needling. Aside from being able to effectively tackle the issues outlined above, you get added benefits for your skin, to boot!
Nano-needling works by enhancing the skin's ability to absorb serums that are beneficial for the skin. Aside from this, though, the procedure also triggers the skin's natural regenerative processes—it boosts collagen and elastin production, which allows the skin to heal and address different target issues.
But wait—there's more!
Apart from those major benefits, nano-needling can also do the following:
Increase skin smoothness and hydration
Exfoliate the skin
Improve microcirculation in treated skin
Even out skin tone
Improve skin texture and acne scarring
Make lines and wrinkles less noticeable
Make the skin healthier and firmer
What it includes?
A nanoneedling treatment will include:
Cleansing
Exfoliation
Nano Needling with Serum acording to skin concerns
Mask
LED Therapy
Get the best treatment result
There's no downtime needed for this non-invasive procedure, but your post-treatment home care routine is as important as the treatment itself for maintaining and enhancing your results. You'll leave with a customised home care product plan that best suits your skin.
-We recommend scheduling a series of 3-6 PRO Nanoneedling treatments with 4 weeks in between treatments.
-Purchase your prescribed home care product system to maintain and enhance your results in between treatments.
-Follow your pre-treatment recommendations and post care instructions as given by your Professional Skin Esthetician to maximize results
and minimise skin sensitivity.
Schedule an appointment with us today to get started
Disclaimer: There is no guarantee of specific results and each person results may vary.